Free Apps For Blogging & Marketing.
With the type of technology our phones can now hold, there really is no excuse for not blogging and marketing on the go so with that in mind here is a list of the free apps I use for my business*.
*All apps were downloaded on IOS on iPhone, the same or similar apps are available on Android too!
Wordpress.
Lets be honest here, most blogs these days are built on Wordpress even if you haven't realised it. Wordpress is such an easy blog and website builder, most of us are using it- I blog first onto Wordpress and then also onto my website separately. The Wordpress app is invaluable if this is the host you use, you can update on the go, post on the move and manage your views and comments.
2. Pinterest.
Pinterest is SUCH a good tool for marketing yet not a lot of people use it for that reason. Of course we all love a good pinning sesh but using it for marketing is a different ball game. Setting up your blog and Insta to automatically pin to your board is such a good way of getting your stuff out there and getting it seen. A repin can get you a lodda new love.
3. LinkedIn.
Everyone knows LinkedIn, everyone is on it for getting hired but not a lot of people use it for marketing. Not only is the LinkedIn app a corker for marketing you as a person and a brand but not a lot of people realise you can blog on it. I have my blog linked (geddit) immediately to LinkedIn and sometimes (especially on a current affairs or political post) I get a good amount of feedback.
4. Latergramme.
To the best of my knowledge, there is yet to be an app developed that posts straight to Instagram offline quite like Twitter scheduling. Until someone develops that kind of app (and inevitably becomes super rich) Latergramme is your next best thing. If like me, you prefer to edit your Insta grid before you post and write your captions then scheduling via this app is a god send. Ok so you need wifi or 3G to post it but you can schedule a date and time and it'll send you a notification to remind you to post.
5. Dropbox.
Little needs to be said about Dropbox, it's mainly for creatives or people sending a lot of files and if you do a lot of that kind of work, you know about Dropbox. Absolutely vital to storing and sending large capacity files or lots of files, you can also sync it with your computer and other devices so all your files are all in one place.
6. Calendars.
Admittedly, calendars is basically just the same as the staple iPhone calendar and it works in basically the same way but I just find it that little bit nicer. It syncs with your iPhone calendar but it just has a bit more of a nicer feel, it makes it much easier to see when you're busy and exactly what you're busy with and it's more colourful so what's not to love.
7. Twitter.
There is little that needs to be said about Twitter. It's pretty self explanatory as to why it's so good for blogging and marketing but if you're still not convinced, have a read of this article I wrote a while back.
8. Crowdfire.
Linking to Twitter (literally) this app syncs with your Insta too and gives you updates on your stats there and then so you don't have to go searching. Admittedly sometimes it can go a bit haywire and will tell you that you simultaneously gained and lost two followers but most of the time it's pretty useful.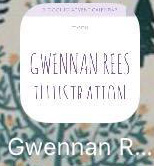 9. Your website/blog.
Again, weirdly not known by a lot of people is the ability on iPhones to save a website as an app to your home screen. It is so vital to have your own website or blog directly on your home screen because not only does it mean you're connected with one easy click, it is a really good way of viewing your content as your readers do.
10. Sell On Etsy.
Separate to the Etsy app, sell on Etsy is basically only for, yes you guessed it, people who sell on Etsy. If you do have an Etsy shop it is SUCH a good tool for updating your shop, managing your sales, editing your adverts and getting your stats. Easy to use on the go, it's so important to keeping your shop running.
11. VSCO.
VSCO Cam. The ultimate photo editing tool for bloggers. We all love it, we all use it, none of us have such pearly white rooms and it's not always sunny where we live. VSCO cam allows you to edit your images before posting them online via filters (similar to Instagram) and also gives you a lot more control via the extensive post editing features. It also handily displays your images as a grid so you get a better feel for what your Insta grid is going to look like.
12. Instagram.
How can you not go from VSCO to Instagram? Again, there doesn't need to be much explanation as to why Instagram is such a good tool for promoting yourself and your blog, have a read of this blog post I did way back when in the summer.
13. Tags For Likes.
Bit of a cheat app but lets not pretend we don't use them when we need a bit more lovin on our feeds. Tags For Likes is an app that links to your Twitter and generate hashtags that are trending, hashtags that are going to get you a bit more of a following and hashtags to get you at the forefront of your grid. They are generated in a box which you can copy and pasta and voila! More love.
14. Buffer.
Buffer is THE best and most used app on my phone. I am a nightmare for live tweeting, it basically doesn't happen. My life is all too hectic and basically if I don't schedule, I don't tweet. This is where Buffer comes in. Scheduling tweets straight off your phone has never been so easy, you just write the tweet, link the account, add the hashtag and the media and save the time and date and hey presto! It's done and offline your tweets are sent and you don't have to think about it again. My tweets have doubled since I started scheduling and funnily enough, my views, interactions and followers have risen too.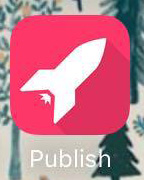 15. Publish.
Publish is my second hand go to for when Buffer has let me down. It basically does the same thing as Buffer but in a less streamlined, easy to understand and work kinda way. The only downside of Buffer is that you can only schedule ten tweets a day (unless you pay which defeats the point of this post) which is normally plenty but sometimes, you just have one of them days where you need to promote EVERYTHING and this is where Publish takes over as my back up.
16. Swipes.
Swipes is essentially a list app. It's a bit like the lists app that comes with the iPhone but better. You basically write your lists and when you need to delete them you swipe one way and when you have completed them you swipe the other way. It's essentially Tinder for lists and I use mine for quickly jotting down blog post titles and ideas.
17. Pocket.
Pocket is an oldie but goldie of an app, one I have downloaded on every iPhone or Android I've ever had. Pocket is a super easy way of saving web pages in one place to fall back on. I'm talking websites, blogs, ideas, purchases...everything. Another organisational classic.
18. Hootsuite.
Like my Publish app to my Buffer, Hootsuite is my back up to Latergramme where you can only post 30 times a month. There is nothing wrong with Hootsuite, it works well, it's easy to use and schedules the same with Latergramme does with notifications on when to post. In fact, unlike Latergramme, this app remembers the hashtags you frequently use so you don't have to type them which you might prefer but I dunno, Latergramme just gets me. Each to their own and all that.
19. Pages for Facebook.
I didn't even know this app existed until I created a business page for my business on Facebook but it was suggested to me and now I use it every day. It's basically for managing your business or community pages but the best feature is allowing you to message anyone to messages you which the normal Facebook app makes needlessly complicated for pages for some reason.
20. Gmail.
I mean what explanation does Gmail really need? Unless you don't have a Gmail account I guess.... I have a hotmail account for personal emails which is synced to my Mail app on my iPhone so downloading the Gmail app was a must. The best part of this app (aside to ya know, emailing on the go) is that you can add a whole load of accounts so I have my personal Gmail (yes I have two personal email accounts), my business account and the account I run for the Llantwit Major Horticultural Society.
21. Facebook.
Aside from everyone having it on their phones anyway, it is so important to use it for managing and viewing your business pages. Like I said, not as good as Pages but you can't download Pages without good old FB.
22. Display.
Not sure why the strange name and logo but Display is actually your Behance portfolio. This is a bit of niche one because it's only really for designers and creatives but it is SUCH an easy way of updating, editing and rejigging your portfolio on the site without even as much as a log in.
23. Bloglovin.
If you write a blog and you haven't already claimed it on Bloglovin- get on it!!! Bloglovin is the best site for keeping up to date with a multitude of blogs and for finding new ones. I love the recommendation service of 'if you like this blog why not read this one', it's how I found a lot of my new regular reads and it's a really good way of seeing what your blog looks like on there.
24. Layout.
Finally, last but not least, another Instagram in app purchase (is purchase the right way for something that's free?). Layout is an Insta add on that collages photos together in one neat block and can hold up to 9 photos in one go. It gives you a whole load of options for how it'll look and the chance to flip, rotate, mirror and replace images and it's a god send for applying grids to Facebook posts cos nobody loves the finished product of a Facebook grid.
These are all apps I genuinely use day to day for my marketing, blogging and business and I hope they are as useful to you as they are to me!